Roller conveyors
The roller conveyors could be driven or non-driven, using for intermediated transportation of manipulation unites of cardboards, packs, materials and products placed on fixed bases (e.g. palettes, crates), as well as products without nipples on a transport area like e.g. tyres, belts, sheet profiles, etc.
Roller conveyors are designed like modular systems, what enables to combine a road according to customer´s requirements.
Line can include
straight section driven or non-driven,
curved section (30°, 45°, 90°a iné),
chain conveyor,
lifting platform,
scales,
turn–table,
cross sliding trolleys,
taking-over table straight, vertical,
equipment of the dimensional control,
specific customer´s requirements.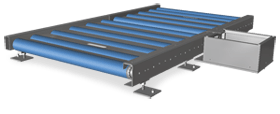 After the assembly of the conveyor track, inserting of sensors and control systems, it is possible to achieve the automatic system.
Standard technical parameters are as follows
width B =

900

,

750

,

450 mm

transported weight m = max.

1 200 kgs

roller´s diameter from

30

till

108 mm

surface treatment and other according to the customer´s requirements
Standard is painting, galvanising, rustless material or plastic rollers.
References